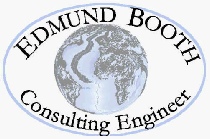 EDMUND BOOTH'S CV
Click here for a CV.
The main resource of the consultancy is the 43 years experience of its principal, Edmund Booth, 30 years of which has been spent in the field of earthquake engineering. He has extensive experience in the design, analysis, assessment and upgrading of a wide range of structures, and in seismic code development, seismic hazard assessment and seismic reliability determination. He is a Fellow of the Royal Academy of Engineering and from 1998 to 2003, he was Visiting Professor of Civil Engineering at the University of Oxford .
The program SAP2000, originally developed at University of California, Berkeley to solve seismic problems, and recently updated, is maintained in-house, and can solve a wide range of 2 and 3-D static and dynamic linear and non-linear problems.
An extensive library of seismic codes of practice and other earthquake references is held in-house, and there is on-line access to a number of general and specialist databases. There is particular expertise in the European seismic code, EC8.

The consultancy maintains active links with leading international researchers, both in the field of seismic design, testing and analysis, and also in the field of structural safety and reliability.

Mr Booth has many active links with leading experts in the field of earthquake engineering internationally.
The consultancy was founded in 1995. Since that time, its work has included the following.
Advice on the seismic design and analysis of many buildings and industrial facilities worldwide, to a wide range of clients.

Site survey, assessment and retrofit recommendations for buildings in South America, Albania, Algeria, Istanbul, Turkmenistan, Uzbekistan, Tajikistan, Kazakhstan, Peru, Pakistan, Armenia, Bulgaria, Indonesia, Georgia and India (principally for Foreign & Commonwealth Office).

Review of seismic strengthening of Antalya Airport terminal building, Turkey using seismic isolation bearings (for Parsons Brinckerhoff/AYT).

Principal seismic adviser to Owen Williams/Laing JV on major programme of survey, assessment and seismic retrofit for 57 rc, steel and masonry hospitals in Turkey.

Independent structure assessments and seismic design advice on projects for the nuclear industry at Sellafield, Aldermaston, Devonport and Dounreay, for a number of clients.

Survey of earthquake damage to the port of Manzanillo, Mexico, for insurance purposes (for Posford Haskoning/TT Club Miami).

Survey

of performance of historic buildings in Gujarat India, following the January 2001 earthquake (for INTACH).

Structural consultant to TEFER project, for improvement of natural hazard insurance and disaster funding strategy in Turkey, for CAR/Willis. Development of structural loss models for reinsurance purposes, for CAR/PartnerRe.

Seismic design advice on approach jetty for major oil berthing facility on BTC pipeline, Ceyhan Turkey, for ILF Beratende Ingenieure, Austria.

Seismic design advice for LNG tanks, petrochemical plants & bridges in Iran, India, Indonesia, the Philippines and Oman, for Foster Wheeler

Organisation and presentation of courses on seismic engineering for Ove Arup & Partners (1995), SECED/Imperial College (1996, 1999,2004, 2006,2008) and Institution of Structural Engineers (1999, 2000, 2001, 2002, 2003, 2004, 2005, 2008). Presenter (in French) at Ponts et Chaussées courses, Paris (1998, 1999). Lecturer for a module on the Imperial College earthquake engineering MSc course (2005 to present), Nottingham Trent University (2002-2004) and Sheffield University (2005).
Before starting the practice, its principal, Edmund Booth, was Designated Seismic Specialist in London for the Ove Arup Partnership, where he was involved in a very wide range of building, industrial, offshore and other civil engineering structures.
THE HAITI EARTHQUAKE OF JANUARY 2010
In April 2010, Edmund Booth led a three person team to Port-au-Prince to investigate some aspects of this earthquake, under the banner of EEFIT, the UK's earthquake engineering field investigation team. The team's findings have been published on the Institution of Structural Engineers website as an EEFIT report, and in a paper in the Earthquake Spectra special issue on Haiti. An archive of the team's photos, with locations shown on the Google Earth map of Haiti, can be accessed by clicking here.
EFFECT OF THE 2001 BHUJ, INDIA EARTHQUAKE ON HERITAGE BUILDINGS
In March 2001, Edmund Booth and Professor Rabindra Vasavada conducted surveys of buildings on major heritage sites which had been affected by the Bhuj earthquake. Their findings and observations are reported here.
PURPOSE OF THE CONSULTANCY
Edmund Booth Consulting Engineer exists to provide high level advice on the seismic design, analysis and assessment of building, industrial, nuclear and other types of structure. It is based on the 43 years experience of Edmund Booth in civil and structural engineering, and his involvement of 35 years in seismic engineering. Edmund Booth is a fellow of the Royal Academy of Engineering and chair of the British Standards Institution's committee on the seismic Eurocode, EC8. He presented the 16th Mallet Milne lecture in 2017 - click here for a podcast.
Site last updated 11 April 2018
Specialist services in earthquake engineering
Click here for contact details